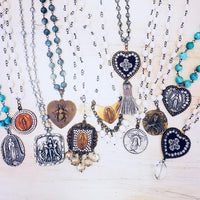 Handmade Necklaces with Vintage Flair
Handmade necklaces with assorted medals. It's hard to choose just one! 
Buy Now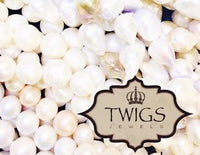 ABOUT US
Welcome to Twigs Jewels 
Made by Artists, Made in the USA, Made One at a Time, Made with Our Time, with our love for creating, with our spirit, and our very heart and soul... Pearls, Crystals, Saints, Goddesses, and Badges of the Spirit...
Expressions of Love, Expressions of Joy, Expressions of Faith, Expressions of Victory.
THIS IS TWIGS. THIS IS OUR PASSION. THESE ARE OUR JEWELS.
Testimonials
I received the most beautiful queen bee necklace as a gift from my sister. The quality and craftsmanship is truly a piece of art. On trend and timeless. 

Carol D.
My charm bracelet is so special and reminds me of a vintage bracelet my grandmother used to wear. It is sentimental and beautiful and I wear it every day.

Mary M.
I have an entire collection of Twigs Jewels and I am constantly complimented on the uniqueness of each piece. I also love the fact that it is handmade in the USA! 

Dawn S.